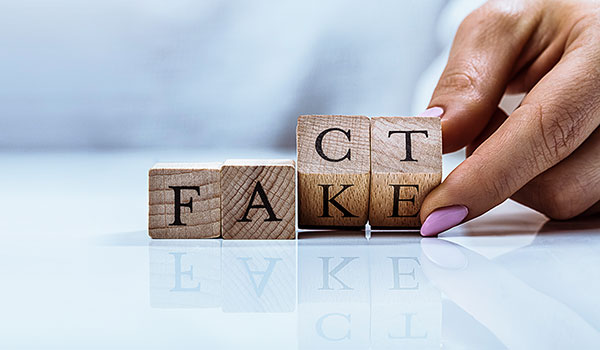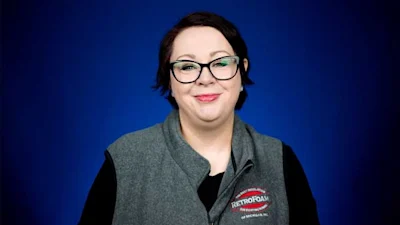 Using scare tactics and half-truths is a sales tactic we just can't get behind.
Spreading misinformation is another thing that just isn't a part of our company culture.
Our mission is to ensure homeowners, or anyone considering foam insulation for their project, have the information they need to make an informed decision. That's the whole purpose of this article – to talk very specifically about RetroFoam's formaldehyde content and the Canadian lawsuit surrounding it.
RetroFoam injection foam insulation has been on the market for more than 35 years. Over the years, we have perfected our product into the superior foam insulation it is today. With that being said, at no time in RetroFoam insulation's history has it been toxic or had high levels of formaldehyde.
Suppose you're getting estimates from several different insulation contractors. In that case, you might run into some that will tell you that RetroFoam is banned in Canada or that the material has dangerous levels of formaldehyde in it. We're here to tell you this isn't true, and we have the facts to prove it.
What is Formaldehyde?
Formaldehyde is a colorless, strong-smelling gas that occurs naturally in the environment.
The gas is used in making building materials and household products, according to the American Cancer Society. Formaldehyde is used in pressed wood products, and it is also used in glues and adhesives, permanent-press fabrics, paper product coatings, and insulation materials.
Formaldehyde can also be used to make other chemicals.
When formaldehyde hits the air, it quickly breaks down in just a few hours. The gas will also dissolve easily in water in a short amount of time. When it is dissolved in water, formaldehyde is called formalin, which is used as an industrial disinfectant and preservative in medical labs and funeral homes.
Formalin is also used as a preservative in some foods and in antiseptics, medicines, and cosmetics.
While formaldehyde can be added as a preservative to food, there are instances when the gas isn't used, but the item still releases formaldehyde. This can happen as a result of both cooking and smoking.
Where is Formaldehyde Found?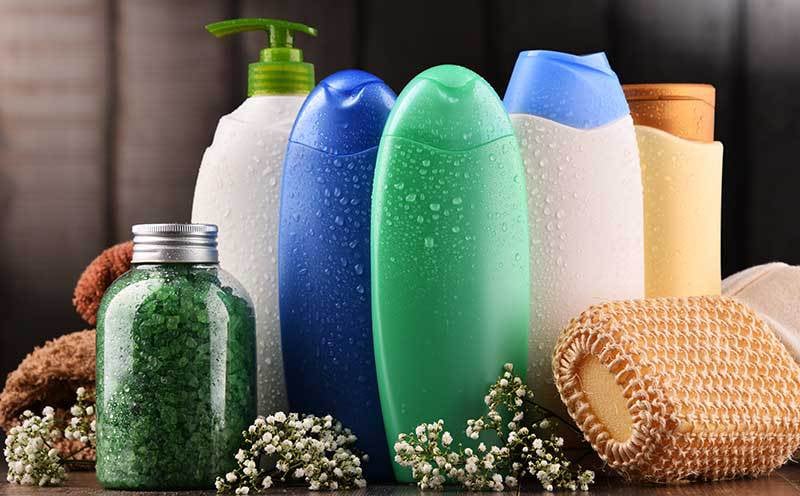 Formaldehyde can be found in items throughout your home.
From the materials that were used to build the house to your dishwashing liquid, here are some of the places where formaldehyde can be found, according to the U.S. Environmental Protection Agency.
Resins used in the manufacturing of composite wood products like hardwood plywood, particle board, and medium-density fiberboard
Building materials
Insulation
Household products include glues, permanent press fabrics, paints and coatings, lacquers and finishes, and paper products
Preservatives used in some medications, cosmetics, dishwashing liquid, and fabric softeners
Fertilizers
Pesticides
Chemicals in new carpets
Formaldehyde is also a byproduct of combustion and certain other natural processes, including:
Emissions from un-vented, fuel-burning appliances, like gas stoves or kerosene space heaters
Exhaust from cars, buses, and trucks
Cigarette smoke
Because formaldehyde occurs naturally, it can even be found in many foods. Fruits like apples, bananas, grapes, and plums all contain formaldehyde, and it can also be found in onions, carrots, spinach, seafood, beef, and poultry, according to Food Insight.
Check out this graphic to see how much formaldehyde is in the foods we eat, according to Very Well Fit.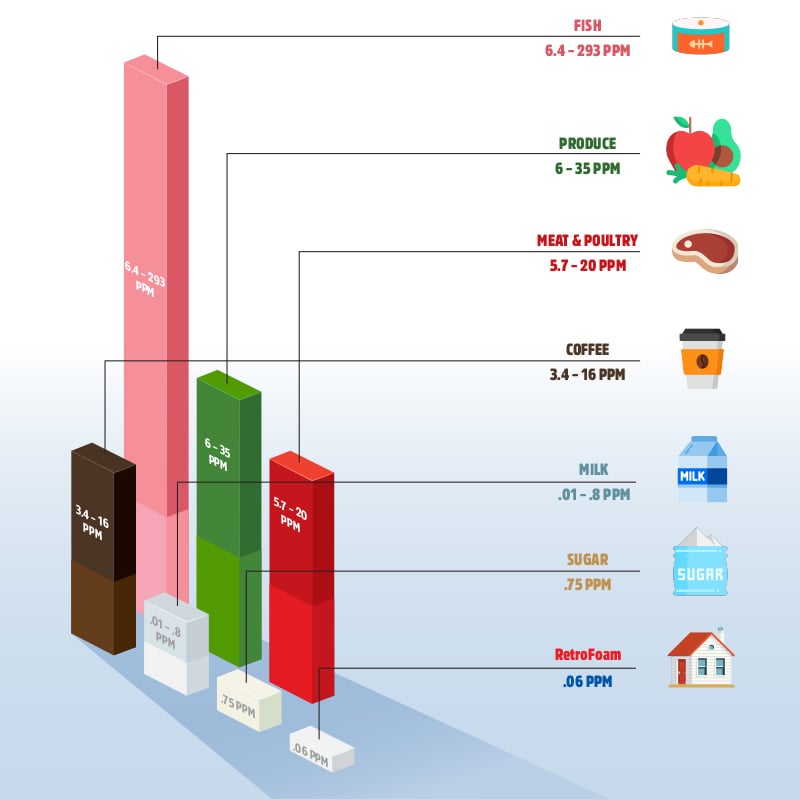 How are People Exposed to Formaldehyde?
The most common way for people to be exposed to formaldehyde is through inhalation.
When formaldehyde is in its liquid form, it can be absorbed through the skin. People are also exposed to small amounts when they eat food or drink liquids containing formaldehyde.
Another thing to remember is that formaldehyde can be found in your inside and outside environments. The gas is normally present at low levels, typically below 0.03 ppm, in both outdoor and indoor air.
The air in rural areas tends to have a lower concentration. In contrast, urban areas have higher concentrations because of factors like automobile exhaust, according to the U.S. Consumer Product Safety Commission.
The indoor formaldehyde levels can vary depending on the space's temperature, humidity, and air exchange rate. The formaldehyde concentration in a home can also change with the season, day-to-day, and day-to-night.
The levels could be high on a hot and humid day, and low on a cool, dry day.
Some people are very sensitive to formaldehyde, while others may experience no reaction when exposed to the same gas levels. When formaldehyde is present in the air at levels higher than 0.1 ppm, some people may experience watery eyes, burning sensation in the eyes, nose, and throat, coughing, wheezing, nausea, and skin irritation, according to the American Cancer Society.
The U.S. CPSC found that in some cases, people experience neurological issues like headaches, mood changes, insomnia, attention deficit, and impairments in dexterity, memory, and equilibrium.
Are There Other Names for Formaldehyde?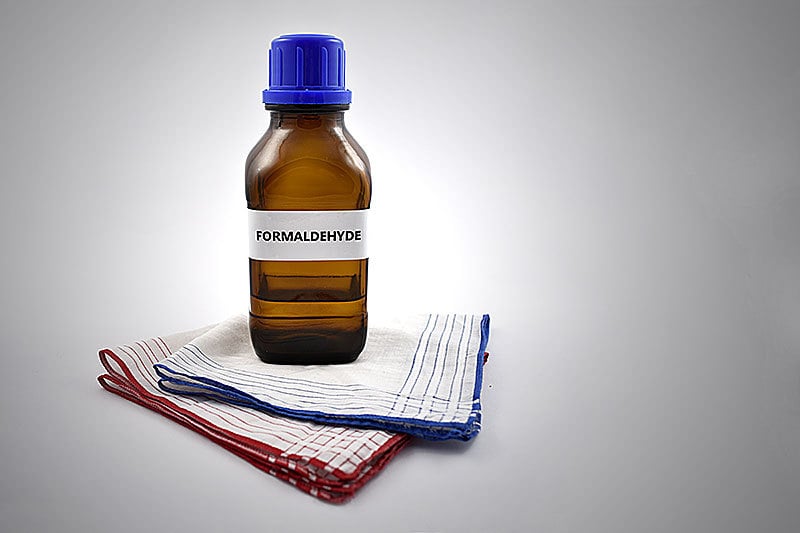 Formaldehyde can be listed on products by other names, including:
Phenolic resins
Formalin
Formic aldehyde
Methanediol
Methanal
Methyl aldehyde
Methylene glycol
Methylene oxide
Some chemicals that are used as preservatives can also release formaldehyde, including:
Benzylhemiformal
2-bromo-2-nitropropane-1,3-diol
5-bromo-5-nitro-1,3-dioxane
Diazolidinyl urea
1,3-dimethylol-5,5-dimethylhydantoin (or DMDM hydantoin)
Imidazolidinyl urea
Sodium hydroxymethylglycinate
Quaternium-15
RetroFoam Problems: Does RetroFoam Contain Formaldehyde?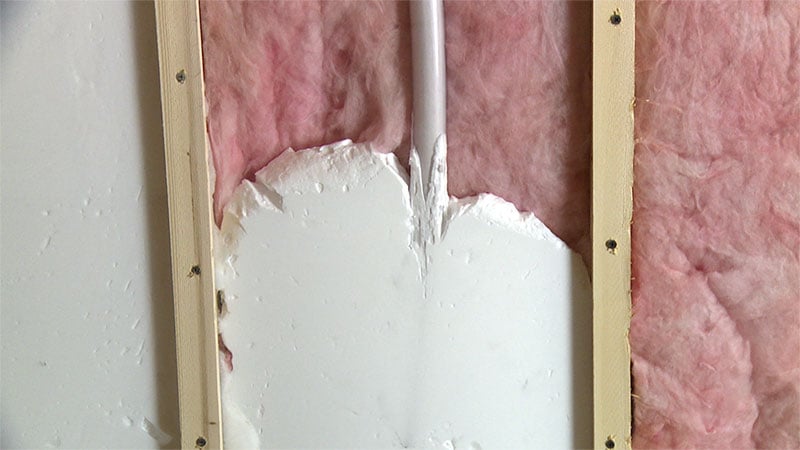 The quick answer to this is that the dry resin RetroFoam product contains a small amount of formaldehyde.
There is a lot more to this answer, though, so I decided to talk to an actual chemist who has worked with Polymaster/RetroFoam for more than 20 years to help perfect the product we use today.
Carleton Edmunds has a doctorate in law, a background in environmental law, and more than 40 years of experience in regulatory compliance and environmental chemistry. His specialties are environmental compliance, regulatory analysis, quality assurance, laboratory operations and audits, data validation, and project chemistry.
Edmunds started working with Polymaster around 1999 to help the company meet environmental compliance standards.
"The resin that is used goes back to the 1930s. Those original resins had a lot of formaldehyde in them," Edmunds said. "The ones used for RetroFoam were developed in 1979, and they found a way to make the resin a lot stronger. RetroFoam has been improved on over the years to make it more environmentally friendly."
Edmunds went on to explain that the RetroFoam resin is fired in a kiln, which seals the formaldehyde in the powder. When the resin is mixed with water, it will release formalin, which is formaldehyde, but it is dissolved in the water.
The only time formalin is released is during the mixing process, which takes place outside of the home in a controlled environment inside of the trailer.
The finished RetroFoam injection foam insulation does contain 0.06 ppm of formaldehyde, but it is sealed inside the cured foam. RetroFoam is considered to be formaldehyde-free because the gas is bound in the polymer, so once it cures, it can't off-gas or escape into the home, and it is not detectable.
"There is formaldehyde in the chemistry," Edmunds said. "Formaldehyde-free is fine to say because it doesn't release into the environment."
Edmunds went on to say there are foods we eat and other items in the home that not only contain more formaldehyde than RetroFoam insulation and release the gas into the environment.
RetroFoam Lawsuit: The Facts About RetroFoam Canada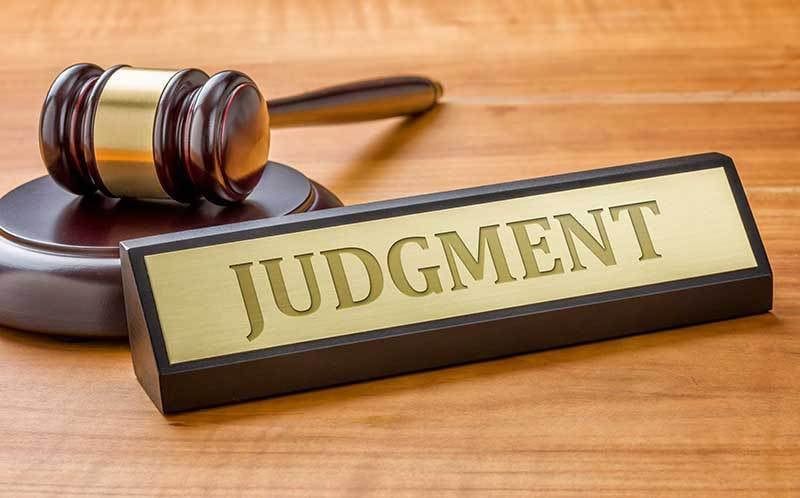 In the 1970s, urea-formaldehyde insulation (UFFI) was used in many homes across the U.S.
During this time and into the early 80s, there was fear that this foam insulation was off-gassing formaldehyde into homes, thus increasing cancer risk. These fears brought on by UFFI are why people today are still worried about using foam insulation in their homes.
A stigma around foam insulation is hard to shake, and the RetroFoam Canada lawsuit came about because of this stigma.
From 2007 until 2012, a contractor in Canada offered RetroFoam insulation as an energy-efficient option for homeowners. The owners of 770 properties in Ontario had the insulation installed in their homes as part of a government rebate program offering up to $5,000 per homeowner to encourage energy efficiency upgrades, according to the Windsor Star.
The problem arose when energy advisers hired to inspect the work for the Natural Resources Canada grant approval began questioning exactly what RetroFoam insulation had in it. This was when it became clear that the Canadian contractor had not gone through the proper regulatory channels to approve RetroFoam insulation in the country.
Health Canada then flagged RetroFoam insulation for having formaldehyde in it, and that RetroFoam of Canada had imported and illegally sold RetroFoam. UFFI has been prohibited in Canada since 1980 under the Hazardous Products Act.
"RetroFoam of Canada Inc. is responsible for ensuring that the products they import, sell or advertise meet the requirements of the Hazardous Products Act and its regulations," according to a public advisory from the Government of Canada.
In 2009 after Health Canada ordered RetroFoam of Canada to stop selling the insulation, a $500 million class-action lawsuit was filed against RetroFoam of Canada, installers, and suppliers of the insulation, and the Canadian government. In total, there were 17 defendants named in the lawsuit.
The lawsuit claims the value of the homes with RetroFoam insulation installed went down because of the stigma surrounding UFFI. It also claims the Canadian government was negligent in allowing the product to be installed.
In August 2015, the lawsuit was settled for $13 million, with each plaintiff receiving roughly $10,000, according to court documents.
The judge pointed out during the proceedings that the targeted formaldehyde substance, while banned by Health Canada 30 years ago, is found "in many, many products in our home…it's part of everyday life, actually," according to reporting from the Windsor Star.
It's important to note, despite the lawsuit settlement and the failure of the Canadian contractor to go through the proper channels to get RetroFoam approved, the injection foam insulation is not and has never been banned in that country, it was just never approved in the first place.
Adding RetroFoam Insulation to Your Existing Walls
So, is RetroFoam insulation safe to have in your home?
Edmunds says the insulation is absolutely safe to have in the home.
Now that you have all of the facts regarding RetroFoam formaldehyde and the Canadian lawsuit, you might be ready to move forward with adding the material to your existing walls.
If you'd like to look for a RetroFoam dealer near you, check out our Dealer Finder.
Related Articles
Is RetroFoam Safe to Have in Your Home?
What Does Fire Rating Mean for Wall Insulation?
Does RetroFoam Insulation Make a House too Airtight?
About Amanda Emery
Amanda previously has worked as a breaking news and crime reporter, TV news producer, and editor. As a journalist, she has won several awards from The Society of Professional Journalists - Detroit Chapter and the Michigan Press Association. Amanda uses her experience as a journalist to write content that will help educate homeowners on foam insulation benefits. When Amanda isn't writing, she's spending time with her husband Chris, daughter Lilith-Maeve, and rescued huskies Danger and Wendigo. She also loves knitting, making art, and cooking.