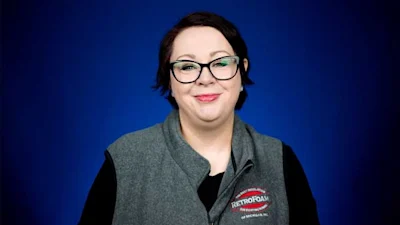 You're ready to update the insulation in your exterior walls, and you want to know what injection foam has to offer.
You're doing your research on existing wall insulation and considered your choices. Now you want to take it a step further and learn everything you can about injection foam insulation.
Well, you've come to the right place.
RetroFoam has been in the injection foam insulation business for more than 35 years. Dealers across the country have installed our injection foam insulation into the existing walls of homes to help homeowners reduce their carbon footprint, lower energy bills, and make those houses more comfortable.
If you want to learn more about injection foam insulation, how it works, what it's made of, and a lot more, you're definitely in the right place.
What is Injection Foam Insulation?
Injection foam insulation creates an air seal in enclosed cavities, like existing walls, against air movement.
Unlike fiberglass and cellulose, injection foam never loses its shape inside the wall cavity. It doesn't shift, settle, compress, or sag. The material completely fills the wall, filling in all of the gaps and cracks when it's installed.
How Foam Injection Insulation Works
No matter the time of year, your wall insulation should work to help you maintain a constant temperature without using a ton of electricity because the furnace or air conditioner is working overtime.
Ideally, when insulation works, it impacts the conduction (heat transfer) and convection (airflow), which play huge roles in your home's energy efficiency and comfort.
Traditional insulations are resistant to heat that is transferred through conduction but still allow for air movement. This air leakage contributes to a critical source of energy loss and drafts coming in through the walls, windows, and outlets.
The goal is to reduce air leakage, which is exactly what injection foam insulation does. It not only prevents air movement but also stops heat transfer. This insulation keeps your energy usage and monthly bills down while ensuring the home is more comfortable.
What is Foam Injectable Wall Insulation Made Of?
There are several manufacturers of injection foam insulation, and every product is different.
For the purpose of this article, we will focus solely on what RetroFoam injection foam is made of.
RetroFoam insulation is a three-part resin injection foam designed to insulate existing cavities like enclosed walls.
As the resin mixes with a foaming agent and water, it creates the RetroFoam insulation, which looks similar to shaving cream in its consistency. This consistency helps the material fill all of the nooks and crannies and work its way between wires and pipes.
What is the Process of Installing Injection Foam Insulation?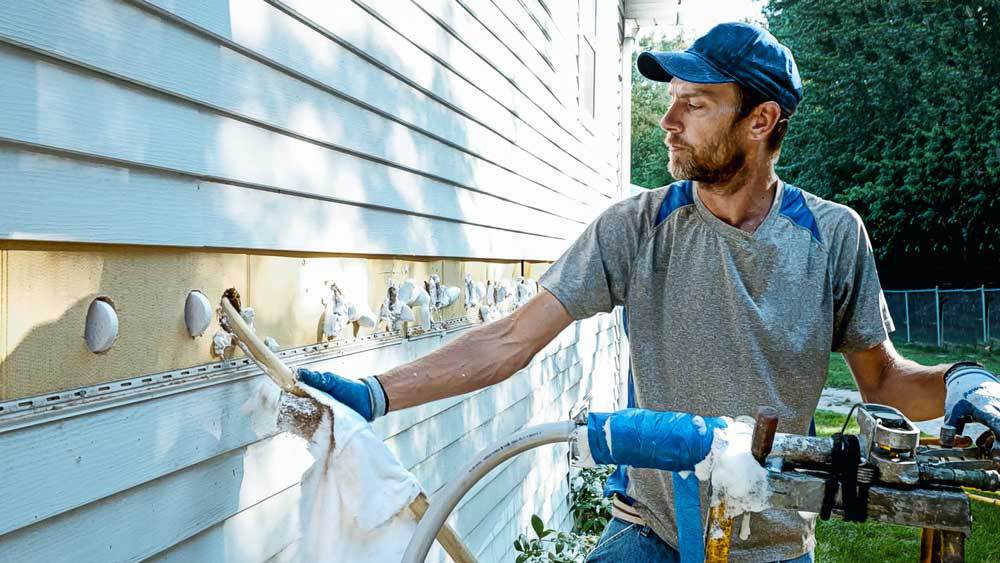 Injection foam can be installed from the outside or from the inside without the need for a complete remodel.
Injection foam can be installed into existing walls without the need to remove the old fiberglass, but if there is loose cellulose, it will need to be removed before the foam is injected.
The actual installation process for injection foam can vary depending on the home's exterior.
A home with either vinyl or aluminum siding would have a row of siding removed around the house, and a hole is drilled through the sheathing into each stud cavity. Once the foam has been injected, a plug is placed into the holes, and the siding is replaced.
Small holes are drilled at the top, middle, and bottom of each stud cavity for brick exterior. Once the cavities are full, the holes are re-mortared and smoothed out. A stucco exterior is handled essentially the same way.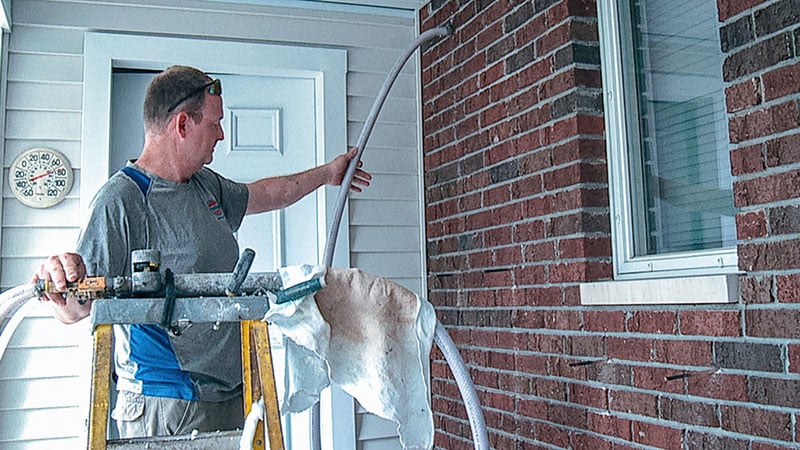 Wood siding can be trickier to work with because there are two options -- if the wood siding is in good condition, it can be removed, or the installers have to drill through it.
If the only option is to drill through the wood siding, the holes are filled with wooden plugs once the foam has been injected.
Concrete block walls can be insulated by drilling into the middle of the wall. If the walls are taller, like in a commercial building, then a second hole is drilled towards the top.
Once the installation is done, the holes are filled with mortar.
How Will Injection Foam Affect a Home's Energy Usage?
If you're a homeowner looking to reduce your carbon footprint, this is a pretty important topic.
Air leaks into and out of a home are a waste of energy and cause those monthly bills to go up. This is because the furnace and air conditioner have to run constantly in an attempt to maintain a constant temperature.
That constant running of those mechanicals doesn't make for an energy-efficient home.
Creating a well-sealed building envelope, which can be done with foam insulation, can make a significant difference in your heating and cooling costs, according to the U.S. Department of Energy.
Adding Foam Fill Cavity Wall Insulation
Hopefully, now you have a good handle on what injection foam insulation is and how it works.
All of this useful knowledge might have you wanting to learn even more about what injection foam insulation, like RetroFoam, can do for your home.
If that's the case, head on over to our Learning Center, where you'll find a ton of great resources to help you along on your foam insulation educational journey.
Related Articles
What is the Difference Between RetroFoam Injection Foam and Spray Foam Insulation
The Best Injection Foam Insulation Manufacturers in 2022
Clearing Up Misconceptions About Injection Foam Insulation
About Amanda Emery
Amanda previously has worked as a breaking news and crime reporter, TV news producer, and editor. As a journalist, she has won several awards from The Society of Professional Journalists - Detroit Chapter and the Michigan Press Association. Amanda uses her experience as a journalist to write content that will help educate homeowners on foam insulation benefits. When Amanda isn't writing, she's spending time with her husband Chris, daughter Lilith-Maeve, and rescued huskies Danger and Wendigo. She also loves knitting, making art, and cooking.